Display to commemorate 150 years of Sorn School

---
Photos Kenny Baird, John Faulds Billy Gibson
A few photos from the recent exhibition to commemorate 150 years of Sorn Primary School. (Held in the Village Hall, September 00)
Top Left: Billy Gibson, David Shaw and Terry Harrison looking menacing in the picnic area beside the village hall, complete with the covenanters drum and halbert.
Top Right: Billy Gibson, Kenny Baird and Terry Harrison
Centre left: Back row: Terry Harrison, David Shaw, Kenny Baird Front row: Mrs Anne McIlvean, Lena Scott (Both ladies supplied material for the web site, as well as Miss Scott's contributions for the Sorn Dairy Exhibition. Her father is in the photo of the old dairy wagon.
Centre Right: The Sorn Dairy Supply case, including old jugs, teapots, the old image of the traction engine [back fallen off the frame!]
Bottom: Views of the extensive exhibition in Sorn Village Hall. You can see many of the images you can see here on line.

---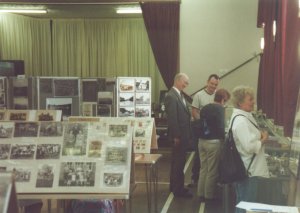 Terry shows some folks around the exhibition
---
There was so much valuable historic material, that Billy Gibson and Kenny Baird had two nights each staying in the hall. Items included the Eglington Jug, which was at the time held by Sorn Curling Club, a classic motorcycle, and other irreplaceable materials.
---
Back to Sorn Primary School Home Page

Back to Sorn Village photos

Back to Sorn home page