Sorn Dairy Supply

---
Sorn Dairy Supply was among the first milk bottling plants in Scotland, based at Hillhead Farm.
Ironically, Hillhead and the neighbouring farm of Crofthead are both now the home of a modern dairy company, Sorn Milk Ltd. This is based at Crofthead.
---
A reference to Sorn Dairy Supply appeared in the book, "Sorn Parish - It's History and Associations", By Helen J. Steven 1898, published by Dunlop and Drennan, Kilmarnock.
"The largest dairy establishment is that of J. Somervell, Esq., of Sorn Castle, and indeed the present laird of Sorn has been so identified with the improvement of dairy farming as to have constituted Sorn a kind of "Mecca" of improved dairying long before the formation of the Kilmarnock Dairy School. The responsibility of the model working dairy at the Glasgow International Exhibition of 1887 was in the hands of the laird of Sorn. Mr. Somervell was Member for the Ayr Burghs from 1891 to 1893, and is proprietor of the famous business in Glasgow known as the Sorn Dairy Supply".
---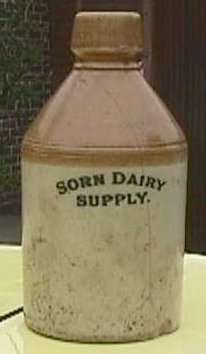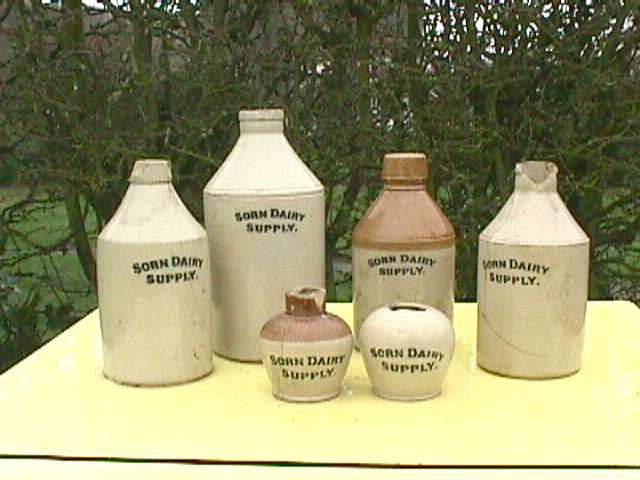 Some of the hardware of Sorn Dairy Supply
---
Photograph Kenny Baird
A jug and one of two old cog wheels belonging to David Somervell of Montrose, photographed on a day trip by Kenny Baird and David Shaw, during August 1998. No-one is really sure what the cog wheels from.
---
Left: The Sorn Dairy used an old Steam driven engine to carry the milk from Hillhead every day. The image below is thought to be the only one in existance. Thank you to Margaret and Lena Scott who helped arrange the photographing of this old image.
The original image was not in the best condition, but in the high res version, you may be able to "imagine" that the text on the side of the vehicle reads:
JAMES SOMERVELL ESQ OF SORN
Right: James Somervell of Sorn, taken from a portrait belonging to David Somervell of Montrose, nephew of James, and Grandson of Graham, of Sorn Castle.
---
JAMES SOMERVELL ESQ
......... OF SORN ..........

---
Rural photos

Sorn home page