WHO WAS IN THE PUB WHEN??
From the memory of myself and some other villagers, we have compiled a reasonable listing of publicans who served drinks in the Greyhound. Dates are more or less a wild guess, especially before 1980. Help with exact dates is required.
Early 1900's McKie
1930's?? - Bessie / Thomas Brodie
Danny Malcolm
Mrs Kirkland
50's? - - Andrew Bell. referred to as "The Captain"
1963 - xxxx - Jean and Ralph Findlay
1968 - 1980 - Davie Rogers Dates very approx
1980 - 1983 - Gordon Shand
1983 - 1985 - Mavis Urquart. (With brother Jim) Included name change to Urquart Arms!!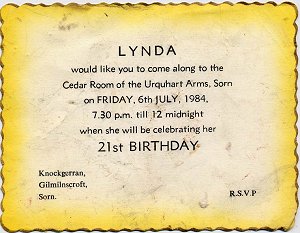 1985 - 1988 - Hugh and Dorothy Moorhead
1988 - 1990 - Roger and Jack (Surnames unknown)
1990 - 1992 - Jim Elder.
The pub never reopened after it closed in 1992.
Click here to see the Greyhound building in 1992, just after last orders was called for the final time.
GREYHOUND MATCHES:
The pub had it's own matches around 1982. This trend seems to have been lost. Notice the Shell sign in the picture, from the times when Sorn had two filling stations. Morton's Garage is still trading, though not in petrol. This was in Gordon Shand's day, and the pub was an unfortunate yellow at that time. The East facing small gable was coloured that yellow colour many years afterwards, and was not even repainted when the place was refurbished for housing. Click on the matchbox for a full view.

There is a similar match box for THE WEE TRAIN in Galston. I wonder what other pubs in the area had their own match boxes made.
THE OFTEN DISPUTED GREYHOUND CHIP MACHINE:
This is the subject of many a discussion, even to this day, some 40 odd years after the machine was in Sorn. Impossible in the 60's say some. Never say others. But it was Davie Rogers who installed the chip machine at the gable end of the building in the late 60's I would estimate.
I remember as a very young boy being given a tanner (6d), to put into the machine one day, and a cardboard cup came down. I lifted this out, and there was nothing in it. The next thing the chips came out, and disappeared down through the grill thing to the waste!!!
One thing I have never found in my travels, is a photo of the said chip machine outside the pub!! If only!! Surely someone during their visits to Sorn took a snap of the Greyhound from the West, and wondered what the strange machine was outside. I am not sure I would remember it anyway, and it would be great to see it again.
I also wonder what they really tasted like after coming out the pub on a Saturday night. There were no grub shops in the village, so the chip machine may have been a good bet when coming out of the pub. And you didn't have to be out the pub before the shop closed!!!.